Everyone is welcome to learn and grow together in life and faith.
Our faith formation opportunities look different during this time of pandemic.
We look forward to gathering in person again soon! 
Making Faith Connections
The Mission of Cross of Hope Faith Connections Groups is to provide an opportunity for all people to share Christ's love and authentic community in a small group setting where lives are transformed through growth in faith and service to others.
We have a variety of groups meeting at different times
during the week. We even have one group for youth. Some of the groups meet digitally on Zoom and others meet in person while still following CDC guidelines with masks and social distancing.
If you are still in need of a group to join, please contact the church office at office@crossofhope.org, 505-897-0047, x102
Women on Wednesdays (WOW) 
Women on Wednesdays is a women's fellowship and Bible study group that meets on the 1st and 3rd Wednesdays of the month.

The group is currently meeting in the church sanctuary following CDC guidelines with masks and social distancing.

To get connected please contact  Kathy Gorman, klgorman@aol.com

 or the church office, 505-897-0057.
Sunday School: 9:45am
*Not meeting during the pandemic 
Grades K-5 follow along using the same Bible readings as presented during the church service, using the Spark Lutheran curriculum. Meet in the 1st grade classroom.
Mid-High (grades 6-8) and Senior High (grades 9-12) meet in Bible study and fellowship around Teen Talks. Meet in the Great Hall.
Wednesday 
Not meeting during the pandemic or meeting online. Please contact the office to be connected with our youth opportunities. 
Mid-week Bible study resumes September 4 during the following times:
5:20-6:00 Grades K-5
6:30-7:30 Grades 6-12
Bible study is offered as part of Walking in the Way Wednesday, with a worship service from 6:00-6:30. Find out more here.
Sunday School: 9:45am
Not meeting during the pandemic 
Adults of all ages are invited to a time of Bible study and faith exploration with Pastor Adam and Patty Westerfield. Join us for our study By Heart: Conversations with Luther's Small Catechism, published by Augsburg Fortress.
Wednesday 6:30pm
Not meeting during the pandemic
Mid-week Bible study happens each week after the 6:00pm worship. All are welcome.
Location
6104 Taylor Ranch Rd NW
Albuquerque, NM 87120
Message
Send us a message, we're happy to help!
Get in touch with Cross of Hope
Call
Church: (505) 897-0047
Preschool: (505) 899-0928
Elementary: (505) 897-1832
Location
6104 Taylor Ranch Rd NW
Albuquerque, NM 87120
Message
Send us a message, we're happy to help!
[/et_pb_column]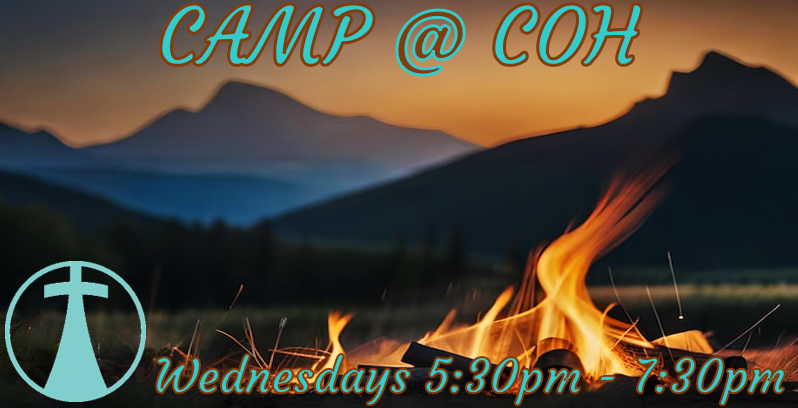 Meals for Camp @ COH
We are asking for your help in providing
simple meals for each rotation of the camp.
Each rotation has 5 weeks.
Each week has a different meal planned.
Some involve cooking and some are take out.
You will find slots available for food donations and/or monetary donations for take-out.  
Thank you for your consideration.
We appreciate anything you can provide. 
Youth Candle Fundraiser
It's that time of year again !
Our Youth will be hosting their Candle Fundraiser.
Please show support on October 1st and November 12th
Mia Bella candles by Patrice Leddy,
505-280-6943, Patriceleddy@hotmail.com 
Will have all of the candles setup for you to see/smell/take home instantly here in the church lobby on Sunday October 15.  Candles are $20 each, all profits go to the COH Youth.
(Cash/checks/venmo/paypal)
Astronomy Night
Cross of Hope Will Sponsor
Astronomy Night Event
Friday, October 20, 2023 at 7:30 PM
This is expected to last a couple of hours. Telescopes, some of them large, will be provided, however guests are welcome to bring their own telescopes. Information about astronomy in general and specific celestial objects viewable in October will be given. This will likely be held at Mariposa Park or at Cross of Hope Church, but the exact location has not been determined yet. More information will be forthcoming. This is a family event, and children are welcome.
Contact: Pastor Rick Alpers,
ralpers@gmail.com, 831-225-9939
LUNCH BUNCH
We meet at various restaurants
The second Wednesday of each month at 1:00pm
October 11, 2023
-BJ's Restaurants & Brewhouse-
10000 Coors Blvd, Ste Ll10
Albuquerque, NM 87114
(Cottonwood Mall)
If you will be joining in the adventure of food and fellowship or need more information:
Please Contact Leeon Carrico
Call 505-554-1128
Leeon.carrico@gmail.com